14 MARCH 2009
MAKE YOUR VERY OWN
CHERRY AMARETTO PIE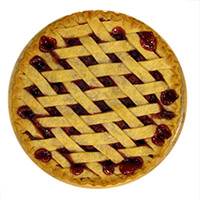 4 cups fresh or frozen sour or pie cherries (pitted)
3/4 cup light brown sugar
3 Tbsp minute or quick cooking tapioca
1/2 tsp cinnamon
1/8 tsp salt
1 glug amaretto
pastry pie crust for top and bottom
9" pie pan
preheat the oven to 400°. mix fruit, sugar, tapioca, salt, spices and amaretto. use 1 glug of amaretto for a dinner pie, or a glug and a half for special occasions.
let the mixture mellow for 15 minutes while you roll out your crusts. you are rolling your own crust, right? you're not one of those no-good-lazy-store-crust-buying luzers are you? good. (store crusts are not as tasty.)
here's a tip...keep your rolling pin in the freezer before pie baking. makes a difference.
if you're going to make a sphericon pie picture out of this pie, then be sure to angle the top crust lattices at 127.8° apart (or so). that way they line up nicely on the sphericon. if you're just going to gobble it up, then the exact angle is less important.
(you know, those that say all the alcohol boils off during baking must be kind of stingy with the grog.)
put the bottom crust in a 9" pie pan, pour in filling and cover with either the lattice crust or just a top. put it in the oven.
while it's baking for an hour or so, write a pie inspired haiku.
you are hot and orange
underneath a rainy sky
my little pumpkin